Darren Moran Named Chief Creative Officer at Draftfcb New York

Darren Moran has been named EVP/Chief Creative Officer of Draftfcb New York, effective October 18. In his new role, Moran will oversee the agency's creative department, while partnering with Draftfcb New York President Sandy Kolkey and CEO Dana Maiman in leading the office.
Most recently, Moran served as Senior Vice President, Global Creative Director at Young & Rubicam, where he created innovative, award-winning campaigns for accounts across a wide spectrum of industries, including LG, Xerox, Chevron, Bacardi, Cellular South, AT&T, MetLife, MTV, Colgate, Ford and Accenture, among others. He was also instrumental in many of Y&R's new business wins over the past five years. From 1990-97, Moran was at BBDO/New York, leaving there as a Senior Copywriter.
"Darren's arrival represents the final piece to a new era for the New York agency," said Tom O'Keefe, Executive Creative Director for Draftfcb North America. "He's got a great reputation as a creative leader who works closely with clients to grow their business, but always stands up for what he believes. Having won many awards with big campaigns for iconic brands, Darren's the perfect leader to help bring our work to the next level."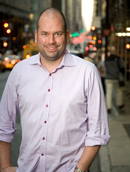 Having worked in the industry for more than 20 years, Moran's breadth of experience spans multiple disciplines, encompassing print, television, digital, experiential and out-of-home, with much of his success a result of creating fully integrated global campaigns that work across many channels.
Moran's work has garnered virtually every industry award, including Cannes Lions, One Show pencils, Clios, Effies, Webbys and nods from the London International Awards, AICP, Art Director's Club and D&AD. 2010 has been especially fruitful, with his integrated "Give it a Ponder" campaign for LG taking home accolades at nearly every award show.
Dana Maiman, CEO of all of Draftfcb's operations in New York, is thrilled to have Darren complete the general agency's team, stating, "Sandy and Darren complement one another well. They have the staff, the experience, the talent and the determination to continue fortifying Draftfcb New York and building our clients' brands."
"Darren will undoubtedly be a strong creative force at the agency. More than any other candidate, he immediately understood our 6.5 Seconds That Matter Operating System, which is all about capturing consumers' attention and driving action in a small window of time, " said Kolkey. "We are going to closely partner to ensure this office realizes its full potential."
"I'm thrilled to be joining Draftfcb New York at this point in our industry's evolution," said Moran. "My 13 years at Y&R was a gift, as I had the freedom and support to experiment in every medium imaginable. Now I can build on that at Draftfcb, a shop with an amazing roster of brands like OREO, Gerber, Fisher-Price and ONDCP and an approach that gives real meaning to the phrase 'integrated ideas.' There is no above or below the line at Draftfcb. Just an environment in which smart, engaging work that truly connects with consumers is the order of the day. It's exciting to be part of a culture that values creativity and accountability in equal measure. I can't wait to get started."
A native of Rahway, New Jersey, Moran earned a BA in Political Science from Dickinson College in Carlisle, Pennsylvania.
During the search process, the role of Chief Creative Officer at Draftfcb New York has been filled on an interim basis by Ron Lazzeretti.
For more information on Darren Moran and to see a small sampling of his work, visit darrenmoran.com.
About Draftfcb
Draftfcb is the first fully integrated, global marketing communications agency to operate against a single P&L, with a network that spans 92 countries and employs more than 9,200 people. The agency is driven by The 6.5 Seconds That MatterSM, an operating system that recognizes the brief period of time marketers have to capture consumers' attention and motivate them to act. With nearly 140 years of combined expertise, Draftfcb has roots in both consumer advertising and behavioral, data-driven direct marketing. It firmly believes there is no way to separate creativity from accountability, which it refers to as Return on IdeasSM. The agency is part of the Interpublic Group of Companies (NYSE:IPG). For more information, visit www.draftfcb.com.
Primary Contact:
Elkie Griffin
Draftfcb
(212) 885-2824
[email protected]