Allen and Gerritsen Challenges Conventional Biz Dev by Appointing Digitas, Razorfish Senior Leader Joel Idelson as Creator of Opportunities
Building on Allen & Gerritsen's Growth Momentum, Idelson Will Oversee Client Development, Relationship Building and Agency Marketing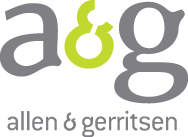 Andrew Graff, CEO at Allen & Gerritsen (a&g) announced today that Joel Idelson has joined the agency as SVP, Creator of Opportunities (a new position). Idelson's role will combine creative, marketing, technology, innovation and relationship building (with current and potential clients) to grow and scale the agency.
He is former Vice President and senior leader at two of the world's largest and most successful digital marketing firms, Digitas, Inc. and Razorfish Inc. (formerly Avenue A | Razorfish, acquired by Microsoft in 2007). He was most recently President of Street Attack, an experiential marketing agency with offices located in Boston and New York.
"At Allen & Gerritsen, we've shifted how we approach our business development and leap strategies," said Andrew Graff, CEO of Allen & Gerritsen. "Joel will be using his creativity to discover and uncover potential business opportunities, both inside and outside the walls of the agency."
"I am the antithesis of the typical Biz Dev guy," said Idelson. "We don't "sell" anything to anyone, we solve complex marketing problems for our clients and this starts with fostering trust by building long lasting, meaningful relationships with them."
By taking an objective and imaginative look at the agency's strengths and the needs of today's clients, we'll strengthen and build partnerships, which will naturally lead to growth, he added.
In addition to his agency marketing background, Idelson spent several years in the entertainment industry as an artist, writer and producer and has created, marketed and sold television and musical projects on a global basis. He still enjoys creating and writing scripted and non-scripted television and film projects as well as producing and writing music.
About Allen & Gerritsen
Always focused on what's next, Allen & Gerritsen (a&g) strategically combines technology, creativity, media and analytics to develop digital, experiential and traditional branding experiences. Ranked by Advertising Age as one of the Top 50 Independent advertising agencies in the U.S., a&g creates conversations and builds connections that contribute to the bottom line. Their roster of global, consumer and B2B clients includes The Boston Celtics, Bright Horizons Family Solutions, Bonefish Grill, Hannaford Supermarkets, MFS Investment Management, Ninety Nine Restaurants, WBUR, Partnership for a Drug Free America, Toy State, Waters Corporation and Zildjian.
Primary Contact:
Rebecca Sullivan
Allen & Gerritsen
(781) 326-1996
(617) 501-4010
[email protected]