POV: HTML5 Industry Adoption
Brought to you by the 4A's Digital Operations and Technology Committee
Primary Author: Jen Soch, EVP Managing Director
Digital Investment, Dentsu Aegis
Chairperson: Joe Barone, Managing Partner Digital Operations, GroupM
Recent announcements have highlighted a quicker-than-anticipated changeover in the industry, from Flash creative units to HTML5. Building ads in HTML5 is more important than ever in order to reach audiences across all screens and all devices. For this adoption to happen, the industry will need to be better educated in HTML5 practices—and become more comfortable with this environment. This POV will summarize the key implications for our industry.
Flash vs. HTML5
Flash evolved in the mid-1990's during a time when the Internet usage was limited to desktop PCs. However as access has expanded to other devices, the limitations of Flash have become apparent. As a closed-source project, Adobe controls the pipeline of enhancements and security fixes; in several cases, large security vulnerabilities went un-patched for months or even years as a result. Additionally, major players such as Google and Apple have complained that running Flash impacts browser speed and drains battery life, both especially important considerations in a world where media consumption is increasingly on mobile and tablet devices.
HTML5 is the latest revision of the HTML language, and was designed with multimedia and mobile environments in mind. As the core technology used to present content on the web all browsers inherently support it, unlike the plugin-required Flash. HTML5 code is also easily viewed by any site user, making identification of security vulnerabilities or malicious code much simpler.
Moving forward:
Adobe will no longer support Flash for mobile. Instead, Adobe has said that HTML5 is the best solution for creation and deployment on mobile browsers.
The default browser on Windows 8 will not support Flash. Microsoft has banned all plug-ins from the tablet version of IE10 that will be included in Windows 8.
Flash is not supported by Safari. Safari has a 55% share of the U.S. market for mobile and tablet usage.*
Flash will be paused by Chrome In September. Chrome has a 52% desktop share in the world and 40% in the U.S.*
---
The images below show what ads will look like when a Flash ad is automatically paused by the browser: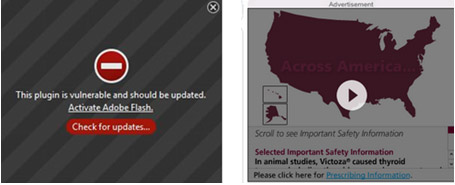 ---
What agencies need to do:
Creative agencies should migrate to creating ads in HTML5 in the near term. This will require training for many, as Flash is still the primary creative unit in many cases. Although we maintain support for Flash, the benefits of HTML5 outweigh those of Flash.
Consider replacing any existing Flash creative files, running on current campaigns or in production, with static images or HTML5 versions at a minimum for the September Chrome changeover.
Consider ad server files sizes and prepare for file size limitations by moving to HTML5. The use of HTML5 will increase file sizes by a significant amount. It's been 15 years since the IAB introduced standard ad units, and HTML5 will skew toward larger file sizes.
Ensure proper budgeting in case their HTML5 rates are different than previous rates.
Since HTML5 content will behave differently on each browser, time should be allotted to additional QA for proper testing before creative goes live.
Publishers and ad exchanges will need to provide updated site specs for running HTML5 for creative builds.
If continuing to run with Flash ads (especially after September), monitor creative impression delivery by browser to quantify the impact of blocked and paused Flash settings.
Future-Forward Vision
With increasing digital use coming from mobile, HTML5 is a good thing for our industry. Richer mobile experiences and more responsive designs will be pushed to all devices. Agencies will no longer have to worry about files that don't render properly or which display a static image by default. The IAB is working on standards, and we recommend consulting them for guidelines.
*Source: StatCounter