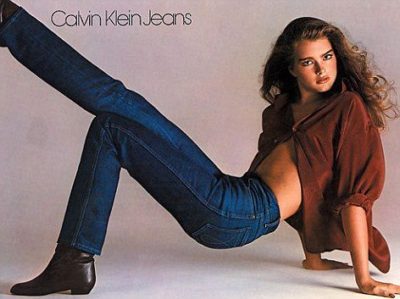 At 15-years-old, Brooke Shields had already risen to stardom as a young actress and model in the 1980s. But, when she was recruited by designer Calvin Klein to appear in a series of overtly sexy print and television ads (shot by Richard Avedon) for his new line of super-tight jeans, she became infamous for uttering the flirtatious line: "Do you know what comes between me and my Calvins? Nothing."
Jeans are sex. The tighter they are, the better they sell.
-Calvin Klein
Unfortunately, a scandalized America didn't consider Shields' appearance in the ads, looking much more mature than a mere 15-year-old "nothing". In fact, the ads caused a public uproar, making negative publicity as much a part of the marketing effort as the ads themselves. Though the commercial was banned by ABC and CBS in New York, Klein himself didn't back down from his choice.